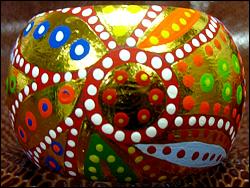 Lately, there seems to be a trend to accessorize - it's one of the most visual ways of telling people about your personality without speaking a word. From bags, hair accessories, to jewelry and other body bling, people want to stand out. Unique accessories are always great conversation pieces and statements of character, and handpainted wooden bangles from
Baubles Bangles N' Beads
add pizzazz to one's get-up. It's artwork adorned on your wrist!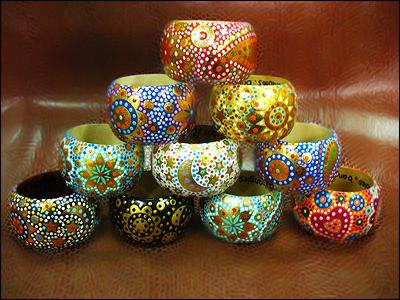 Baubles Bangles N' Beads (simply nicknamed "
BBB
" by loyal customers) have a strong online following, now that in the country, online stores have been making big waves and are grabbing a market share in the young trendy groups. The trio of
Venny Lex Santos
,
Paoling Yu
and
Joyce Tan
have been selling these unique bangles since 2005.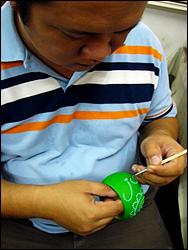 "I'm the artist among them, and the two girls in the team are the marketing duo," says Venny, whose passion in life is painting. Venny tells me that he used to work for an art gallery, and the daughter of the owner was into arts and crafts. "I guess I was influenced by her, and I started tinkering with beads and crystals at first, creating pieces using Swarovski crystals then later on giving them as presents to my girlfriend. Not only were they unique, but creating your own accessories is cheaper to give as gifts for your girlfriend," he laughs.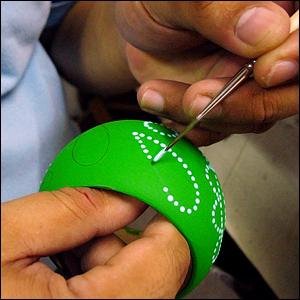 The artist at work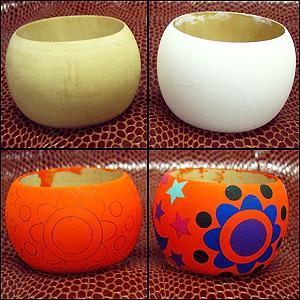 Step-by-step painting of the bangle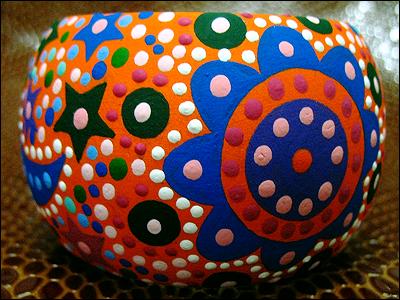 Painted bangle ready for varnishing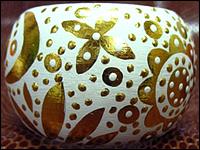 From beads and crystals, Venny started looking for new material to work with. That's when he decided to paint on wooden bangles. "I get inspired with different patterns on fabrics, and I inject my own style. Since I'm a painter, I get inspiration from paintings and images too." BBB uses all local materials for their bangles, and their online business has been operating for about a year now. They have also registered BBB with the DTI.
"People get addicted to our bangles," Paoling mentions to me, "We have a big group of loyal customers, and they frequent our website to see if we have new designs.
Unahan sila sa mga
bangles!"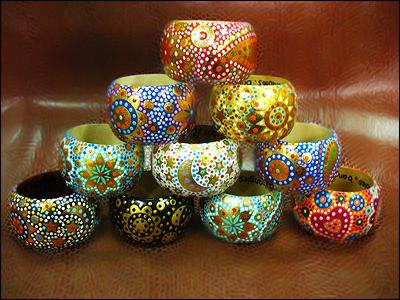 From teens to mommies, little kids to even foreigners, BBB has created a buzz among fashionistas and accessories-crazy females who are always on a look-out for unique finds. "We want people to see bangles in a different way. It's not only for the summer season, it's not only for casual wear. We've got designs that are very elegant with gold detail, we have ones that are retro-inspired, we have ones in bolder, brighter colors for the more daring. There's a bangle to match every mood and season," says Venny.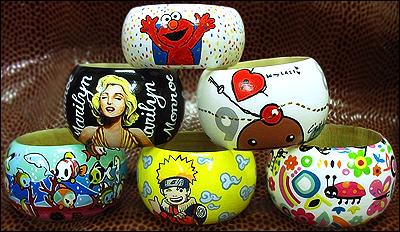 Baubles Bangles N' Beads also accepts customized orders, if you wish to design your own bangle. "We really encourage our clients to be creative and imaginitive when they want made-to-order pieces. We want them to customize their own bangles so that they really matche their style, and that their bangles are truly unique," Paoling says. "Clients can mail us clear, hi-resolution images of designs they like, then descirbe how they want the bangle to look like. It was fun creating a customized bangle for a lawyer client because she sent us a very detailed description, complete with a ready design that she created herself. The bangle turned out very nice!"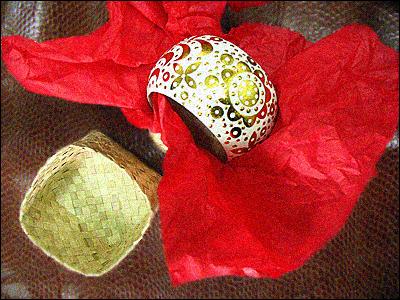 When you purchase a bangle from BBB, it is wrapped in red Japanese paper and placed inside a Buri box, which makes a perfect package for gifts or party giveaways. The bangles come in many sizes to fit your wrist perfectly, and are available in two kinds of thickness (
Medium - P350
,
Large - P500
).
Kiddie and tweenie bangles
Their online store has a helpful and detailed description on how to measure for wrist size. BBB also makes "kiddie-tweenie" bangles with colorful designs of children's favorite cartoon characters. Customized bangles can also be ordered, and prices depend on the intricacy of the paintings.
So if accessorizing is your thing, go and flaunt your wrists with BBB's handpainted wooden bangles!